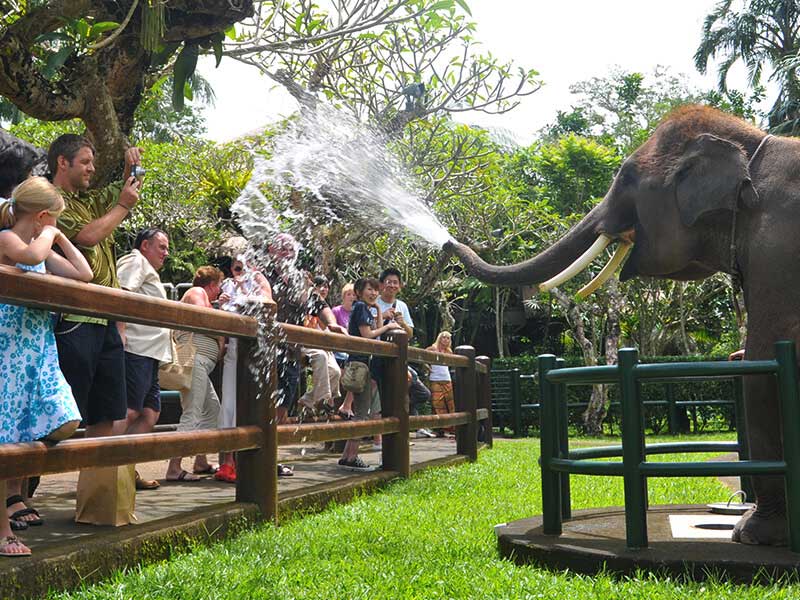 ---
Animal parks in Bali are natural sanctuaries for exotic wildlife from various regions of the world. As you'd expect from a tropical island that's so lush and green, Bali has a variety of wonderful wildlife attractions to appeal to visiting animal lovers. You can walk through enclosures housing exotic birds and butterflies, explore sacred monkey forests or hang out and enjoy breakfast with elephants!
The Bali Bird Park & Reptile Park lets you get close to, touch, feed and view open displays of 250 species of birds. The park also has exotic reptiles and amphibians among the horticultural gardens. The Kemenuh Butterfly Park, in nearby Sukawati, has flowering garden enclosures with many beautiful and colourful butterfly species.
The Mason Elephant Park was created in response to the devastating situation in Sumatra where rampant deforestation and poaching has dwindled the native elephant population. The multi-award-winning park is Bali's only dedicated elephant rescue facility and is home to 32 critically endangered Sumatran elephants, a number of which were born there. The park provides guests with the rare opportunity to interact and learn about these gentle giants while giving the healthy herd a comfortable and safe environment to call home.